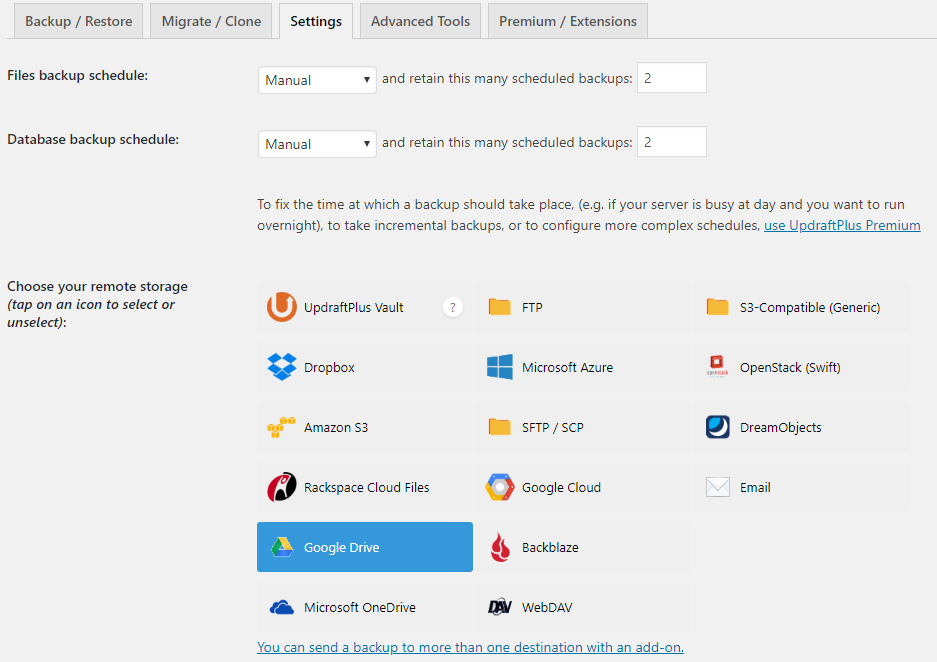 Recently I have been working on getting a website running for
Taylor Built Solutions
so that potential clients know what I can offer them and know how to contact me. After posting about
switching a client's site to WordPress
I decided to try to use WordPress for Taylor Built Solutions' site. Given that I've now got a look and feel that I've I like with the site, I'd like this blog to have the same look at feel. So consider yourself warned that the look will change soon! Note that the address for the blog (
https://10.0.20.11
) will not be changing.
So, to flesh this post out a little, here's a few things that I've learned while creating the site:
UpdraftPlus Backups for Backups and Site Migration
Make backups somewhere other than where my site is being hosted
Be able to migrate my site from my development environment to the hosting site that I use
Given that the point of the tool is to make a backup, that was the first thing I attempted. I quickly found under the Settings tab that the free version can back up to many different services (including Google Drive which is convenient for me). After selecting the service of your choice, providing settings, and clicking save, UpdraftPlus asks you to login to the service and approve the connection to it so that it can write backups. Easy enough!
My second goal was to insure that I could take the site that I'm developing locally and migrate it to a hosting service when I'm ready to get the site actively going. This would also provide the flexibility to move hosting providers at some point in the future if necessary. So, given that, I spun up a different local development environment using
Varying Vagrant Vagrants
(henceforth VVV) and installed the UpdraftPlus plugin. I setup the remote storage connection then went to the Backup/Restore tab and clicked on "Rescan Remote Storage."
Once UpdraftPlus had talked to Google Drive my backups showed up. I selected the backup I wanted and clicked "Restore". This was where I ran into my first hiccup though it was a hiccup I needed to run into. It turns out that, even though VVV uses consistent hostnames for the default environments, I was changing the hostname of the environment I was trying to restore to (from two.wordpress.test to one.wordpress.test). The restore functionality isn't setup to handle changing the settings of WordPress to make the hostname change work.
However (you knew there was a however, right?), the paid version of UpdraftPlus has the migration functionality to get both a restore and the settings changes for the hostname change done. Because I intend to get the site for Taylor Built Solutions up and because I hope to help distributors get e-commerce sites up and going I decided that the cost of
UpdraftPlus Premium
is worth it's price. I also don't mind paying for a good product and the free version had already proven its worth.
Once I'd paid for premium I followed the installation instructions. This involved removing the free version installed from WordPress, downloading the premium version from UpdraftPlus' site, and installing it. This was easy and, once installed, I signed in on the settings tab then went to the migrate / clone tab. The clone functionality turns out to be available directly in the UpdraftPlus plugin (it happens to clone to UpdraftPlus' hosted storage). Because I didn't want that, I clicked for more information on migrating and found out that there is a different
Migrator
plugin that UpdraftPlus offers you as part of your premium subscription. After installing the Migrator plugin, the migrate / clone tab offers you the ability to simply select a backup you want to migrate from. Note that, to install the Migrator plugin, you need to click on a link in the Settings tab of UpdraftPlus instead of going through WordPress' normal plugin installer.
I found one more hiccup at this point. Because I had the free UpdraftPlus installed on my site when I took the backup, I needed to delete it and re-install the premium version after the migration. No big deal.
Putting the blog on an instance of WordPress running on a subdomain
The next item I am working on is getting this blog setup on a subdomain with its own instance of WordPress so that the main site isn't cluttered by all of the posts to the blog. I watched
this tutorial on YouTube
while working on something else. I plan to go back to this tutorial when I start working on setting this up.
Conclusion
I can't wait to show you my new site and get this blog ported over to it. More info coming soon!